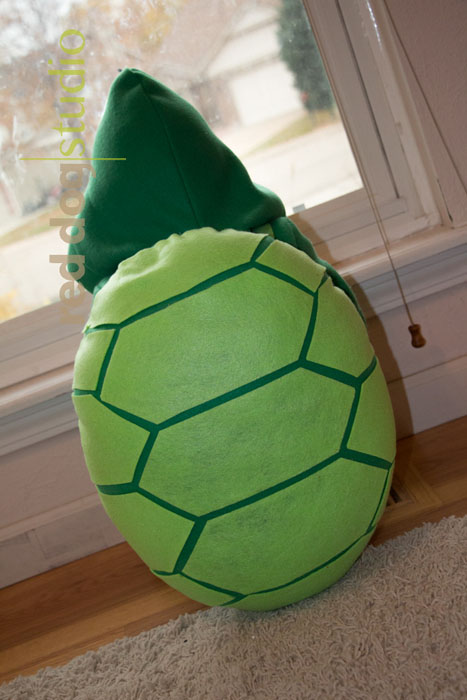 I was never into Halloween all that much as an adult after it got too weird to trick or treat over the height of 60″. Now, add a couple kids to the mix and the pressure is on to get creative not to mention find time to even make a Halloween costume. Now I get to make two of them! I know I can go to the store and just buy one. But I try to be frugal and…well…I just try. Plus the excitement the night after completion when the kids see their costumes for the first time makes it all so worth it.
Four year olds can be delicate creatures. I'm not worried about the 20 month old. Let's face it he'd be happy with a purse and a toy phone. <<(I lied. After making 2 of everything, the boy wants nothing to do with the turtle shell. Stay tuned for part 2 – Halloween 2013: Kermit Costume) But the four year old. She's been talking about Halloween since July. She even still puts on her dino costume I made for her last year. She was very determined that she wanted to be a turtle since sometime in September….really? I honestly have no idea where she came up with that. But OK. Of course searching for "turtle costume" brings up a gaggle of turtles with names of Renaissance artists who don weaponry from East Asia. Uhm. No.
And finally. There it was. Just what I had been looking for that didn't require a bike helmet. It was brilliant. I introduce to you:
The Almost Perfectionist: Homemade Turtle Costume
It seemed the harder part was trying to figure out what to wear underneath. I have a gazillion and one PDF sewing patterns so surely something would jump out at me. But it didn't. I knew I wanted to use fleece because it was on sale for $2.99 a yard at JoAnn's and Halloween can be cold in Colorado. I was on one of my said PDF pattern group pages when someone said they wanted to make Peek A Boo Pattern Shop's Hangout Hoodie in fleece…and it struck me what a fantastic pattern it would be for a turtle costume. And even better I already owned it. It will be warm and the hood will be a perfect place to mount a couple eyes to. Then I needed to figure out some bottoms. I decided just to do a pair of quick and easy leggings. Thankfully JoAnn's had an interlock knit that was close enough in color. Peek A Boo Pattern Shop has the Lollipop Leggings, but I don't have that pattern so I used the Ruffle Leggings by Jocole since I already had it but sans ruffle. And for the record real boys wear leggings. Except I actually widened them a bit so they weren't so tight looking.
THE HOODIE
Fleece is somewhat stretchy but not enough that I'd construct a fleece garment from a pattern intended for a stretch fabric like jersey, intlerlock or a cotton/spandex blend. Amy of Peek A Boo Pattern Shop was very helpful in suggesting going up at least 1 size if not 2 and reminded us that the pattern is not intended as a coat but as a shirt. So I measured the kiddos chest size and went 2 sizes up based on that measurement. It's the around/width measurement that's more important here since that's the direction of stretch in a fabric: around the body. I could tailor to any length I wanted so that wasn't what was most important. I decided based on my daughter's chest measurement to make her a size 5 (again, upsizing) and for my son I went with a 2T. An important note to make is I did not use a separate cuff piece for the end of the sleeve as the pattern has you do because, again, fleece does not have the same type of stretch and having it as a cuff piece would make it pretty tight at the wrist. So I added the length of the cuff to the sleeve pattern piece and cut the sleeve as one piece and hemmed instead of adding the cuff. The other thing I did to the sleeve was widen it by using the next size's sleeve width so the sleeves wouldn't be too tapered and tight at the wrist.
The last modification I made was adding a 2″ high band at the bottom since they came up a little short for some reason. All you need to do is cut a 4″ high band x whatever the circumference of the bottom opening is (don't forget to add a seam allowance). Then you sew the band right sides together at the short ends then fold in half the long way with wrong sides together.
With the hoodie right side out, place the band around the bottom and line up the raw edges (so the edges of the "open" side of the band align with the bottom edge of the hoodie) then sew around like you would a hem using whatever seam allowance you'd like (you're bascially making a really big cuff). I used 3/8″ since I serged and that allowed me to cut off a little bit and line up the seam of the band with one of the side seams of the hoodie.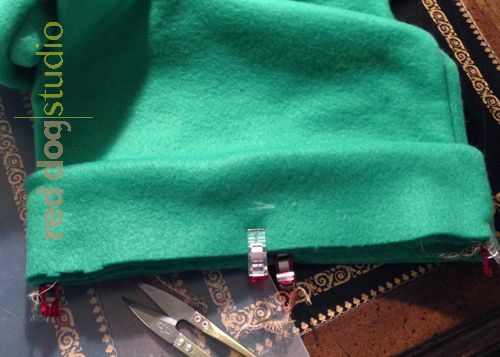 And I totally winged the eyes. Via the interwebs I've learned some turtles have a stripe across their eye. But to me these look like eggs with a slice of bacon on top. I try. These are made of felt.
THE SHELL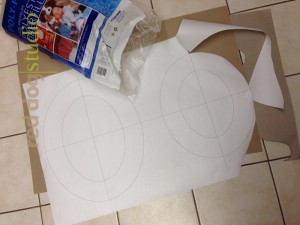 I pretty much followed The Almost Perfectionist's tutorial to a Tee. Except after I constructed the first shell I had a Eureka! moment which I'll outline below. Having two architects in the house makes for fun times. My hubs drafted a couple ovals in AutoCAD and since large format printing is part of the job, was able to print it on a 24×36 piece of paper for me. Just like the tutorial instructed, I had an inner oval size which I used to cut out the cardboard then the outer oval size, which was offset 3″, was for the fleece to be used for the outer of the shell (Oh, I used some of my leftover fleece from the hoodie and used that for the shells instead of felt and it worked fine). Then the poly fill stuffing and hot gluing commenced.
I pretty much needed husband's help to glue down the first shell because something about me and basting just don't go hand and hand. I always inevitably break a thread. And I needed him to hold the cardboard in place as I was scrunching/gluing/stuffing/maneuvering everything around at the same time. As I was trying to keep the curse words to a minimum since children were present, it dawned on me: I'm going to sew elastic onto the next one. And I'm so glad I did! It's like a shower cap for turtle shells.
As a diaper maker, if there's one thing I have in the house it's elastic. 1/4″, 3/8″…even 3/4″ and 1″ non-roll, oh my! But I decided on the 1/4″. And since it's what I already had I used polybraid. But we're talking costume making here so any elastic will do I'm sure. And I just needed it to stay intact from the sewing machine to the hot glue gun.
To determine the length you'll need, a good rule of thumb is to measure the circumference of the oval and divide by 2. Then add 2-4 inches for safety.
It's simple really. I put my machine on zig zag with the following settings. Keep in mind polybraid elastic gets skinnier as you stretch so that's why the zig zag is set so narrow. Knitted elastic doesn't have that property:
I wanted a little bit of fabric above the elastic so I just lined up the edge of the fabric with the right edge of my presser foot. Then for the elastic I would line it up with the middle of my all purpose presser foot. It gave me just the right amount of fabric on the outside of the elastic.
So if you haven't really sewn with elastic before, you'll need to stretch the elastic as you sew. You'll want to start at least a few stitches into the elastic before stretching. Then when it's secure and with the needle down in the elastic, you'll stretch the elastic with all your mite and start sewing. Making sure to keep the center of the elastic feeding through the center of the foot. And to help things along, I also counter the stretching motion from the back. So I hold onto the back of the project as it comes out from the presser foot. So stretch in back and stretch the elastic in front. I keep the spool of elastic in my lap (or on the floor) so it just keeps feeding through. Go slow, stop along the way to stretch the elastic and keep shifting things around as you go around the oval. Always stop with the needle down and stretch out the elastic before starting again. When you get to the end just overlap the elastic a little bit and trim. Again, this isn't couture so I don't even bother pulling and trimming threads.
See…look! Isn't it beautiful!!!! And best part is I could stuff and get that glued on with my eyes closed. Except for the third degree hot glue gun burn of course.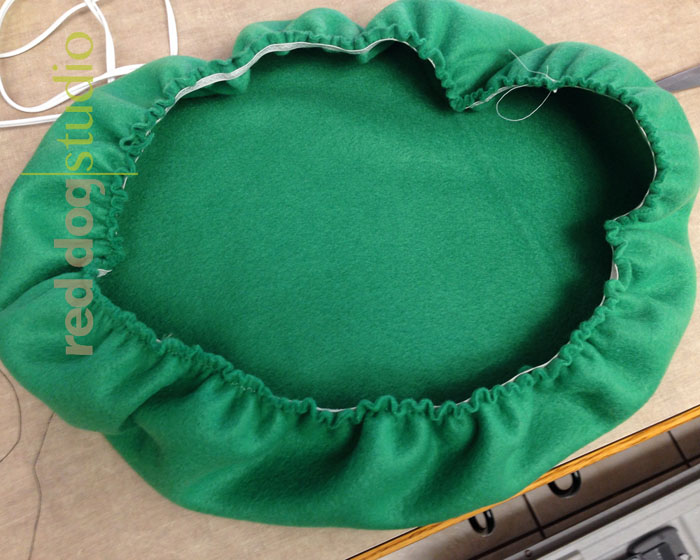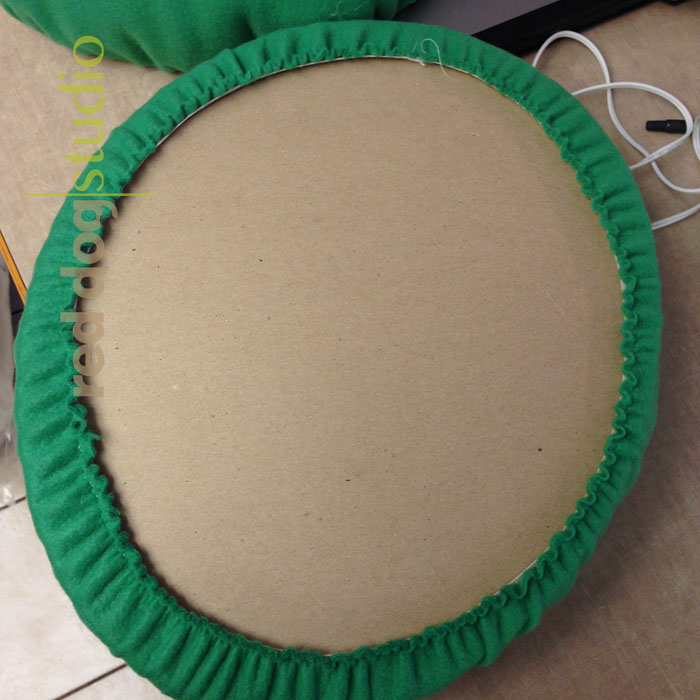 And here's the basted one <boo hiss>. Of course, basting allows one without a machine to do it by hand and the elastic takes a couple minutes longer. But it was so easy and worth it if you're a one wo/man job.
My husband did the labor on this masterpiece on the shell (following Almost Perfectionist's photos). Didn't he do an amazing job!? He took the height and divided it into equal sections then cut a long piece of felt of that height. Then cut to the length needed and trimmed 45 degree cuts into the ends. Miss turtle was so excited when she saw it in the morning.
As far as the 20-month old goes. He was not too keen on the turtle shell as mentioned. So he's going to be Kermit. Which is the only thing I could think of with this color ensemble…too bad it was after the hot glue had dried that I determined the wrist fringe should have been glued onto the inside. But Kermit didn't have wrist fringe anyways. So. There.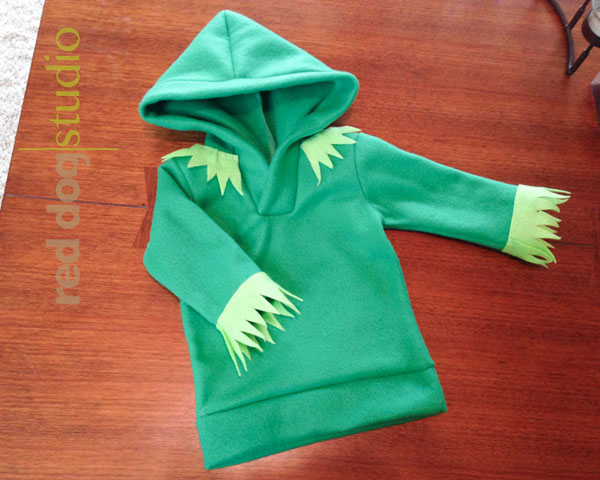 MATERIALS AND COST
Not sure that I really saved much by making them. But here's where I am at for TWO costumes (all materials were bought at JoAnn's)
For the hoodie and exterior of the shell:
2-1/4 yard of green fleece (on sale for $2.99/yd): $6.72
For the leggings:
1 yard of green interlock knit on sale for $5.99/yd: $5.99
Polyfill for the shell:
I already had a 32oz bag but I suspect for 2 costumes you'd really only need the 12oz bag which you can get with a coupon for: $2.50
Webbing:
2 yards at $1.99 x50% off coupon: $1.00
Felt sheets for the eyes:
3 sheets at 25 cents each: $0.75
Felt by the yard for the shell design:
1/3 yard on sale for $2.99/yd = $1.00
Elastic:
I already had but it's cheap and I'm guessing you wouldn't need yard. But a 3 yard package is about $2 and you can always use a coupon.
Hot Glue:
I used about 4 sticks and I already had it.
Cardboard for shell:
Free
So grand total for TWO costumes: ~$18