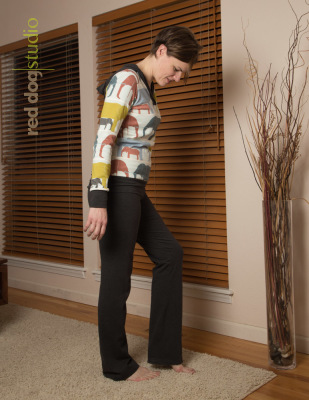 This post may contain an affiliate link.
I'm switching things up a bit. I've sewn something…for myself *gasp.* This is part of why I love to be chosen as a pattern tester: it pretty much requires me to sew something. My elation was further enhanced when chosen to test because it meant I got to make something for me! Now, I've hem and hawed over whether or not I was going to blog about this because, well, I'm hesitant to plaster pictures of myself over the interwebs and potentially have my bum show up in someone's Pinterest feed…or I suppose even worse would be on a Facebook link lol!
But. Alas. The power to tell everyone about these awesome, comfy yoga pants is too great.
Pattern Description
The XXS-XXXL pattern has options for three different lengths: shorts (4″ inseam), capris (21″ inseam), and full length (32″ inseam). In the event you need to adjust the length (because you have mile long legs like my mom for example), a lengthen/shorten line is indicated on the pattern which I always find useful. The pant has your typical yoga pant snug fit at the waist and hips, with a fold down waistband, then goes down the leg into a wonderful flare at the ankle. It's not obnoxiously belled, just enough to be flattering. I think the most exciting feature of the pant is the optional zippered pocket on the waist band. I am not a zipper installer y'all (the true reason I only work with knits) but it was super easy. There are two different sized pocket options.  A smaller key pocket or the larger cell phone pocket. I can tell you this is super handy for hitting the trail, popping out for a quick stroller cruise around the 'hood, or even stashing some dog treats for the dog park. But then you get noses up your crotch so I'd proceed with caution with that one.
Pattern Instructions
I have to tell you Peek-a-Boo Patterns are my go-to patterns in general. If I'm looking for something specific I go straight there. I know I will get no-fuss and easy to follow patterns. I'm not sure what sort of voodoo Amy puts in her patterns to make them this way but they always go together quick. The Yoga Mom pants are no exception. I think it took me longer to figure out what fabric I wanted to use than sewing them up (uhm…I know, I know. It seems I didn't give much thought to it since they're well…grey. But trust me. There was some serious delegation to be had). The instructions were super clear and the pattern pieces simple to put together and cut out.
Fit
Well here's some shots…booty and otherwise. I wear these mostly with shoes so if I were strictly doing yoga and going barefoot I would probably bring up the length just a hair. Overall the fit is fantastic. I am a size small in RTW and the size small was true to fit for me. Again, I love the flare of the pants. There is no pulling in the crotch area which is a bonus when moving through all those bendy and up-downy yoga moves (or wrestling with aforementioned dog noses in places they shouldn't be).  They pair well with Peek-a-Boo Pattern's Hampton Hoodie don't you think?
These also come in girl sizes (3mo – 12 years) so how cute would mommy and me yoga pants be!?
New to Peek-a-Boo Patterns? Purchase the patterns through this affiliate link and receive 15% off your first order.
Get the Yoga Mom Pants pattern you won't regret it.