This post may contain an affiliate link.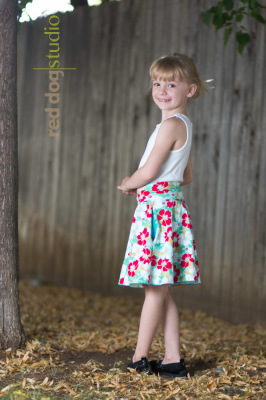 If you're a seamstress with so much to do but so little time (hello, any mom/dad on the planet) then you will be pleased to hear that this skirt will take you no time at all. Have a girl that loves to twirl? Kill two birds with one stone with the Spunky Girl Skater Skirt.
This pattern is designed for knits but some testers did make them in woven.  The measurement chart goes by waist size, so if you're going to use a woven, it is recommended to go up one size so that the skirt can get over the child's hips. You'll still want to use a cotton/spandex blend for the waistband.  Me, I love me some knits so that's what I made these two skirts out of. The pattern includes sizes up to girl's size 12. The Women's version is being released concurrently and is sized XXS-XXXL.
The pattern includes an option for hidden side seam pockets – by not using them it makes this an even quicker sew. But my DD loves pockets so I left them in and they honestly don't take up that much more time. As a quick tip, I like to sew the pockets onto the skirt panels using 1/16-1/8″ less the seam allowance so that they kind of roll inwards when worn.
The first skirt I did is exactly to the pattern's specification. However, I did a quick and easy rolled hem on my serger instead of a typical stitched hem.  The tank in the star fabric is the Rio Racerback with the flat tank front add-on. I made the size 5 for my daughter who is a size 5 in RTW and the fit is spot on. I do have the skirt hitched a bit high in some of these photos but the skirt falls right at her knee which is how the pattern was designed. The skirt also has a fold-over yoga style waistband which is nice and comfy and no elastic required.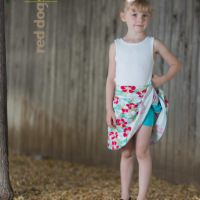 On the second skirt (the floral) I decided to add the shorts portion of Peek A Boo's Skip A Long skirt using the same size shorts as the skirt I made. I basted the pants to the skirt before adding the wasitband. The other modification I made to this is I added 1″ in height to the waistband. My daughter has a high rise so I kind of like the little bit extra. If I do that next time, though, I would probably add 1/2″ in width to the waistband as I think a combo of the shorts and higher waistband made it a little tighter at the waist.
New to Peek A Boo Patterns? Get 15% off your first order by searching for the patterns I've listed and ordering through this affiliate link.  You will find Peek A Boo Patterns offers a plethora of patterns with some great classics. I've said it before but there's something about her patterns that produce great results that are easy to sew. Amy also offers custom printed fabric.  The hibiscus print is from one of her earlier rounds.
Photo credit: BKing Foto
While I'm at it, here are a couple pics of the Rio Racerback dress option; another super quick sew.
Disclosure of Material Connection: I was chosen as a pattern tester and therefore given the pattern only for the purposes of the testing. This blog review was unsolicited and opinions and recommendations are solely my own.