I don't normally do New Year resolutions. But I am also a bit OCD in that I'm a planner. I was thinking about what direction I wanted to take my sewing business and now that I'm not bogged down in the architectural exams, have also been lamenting on development of my sewing skills. I've been sewing for kids for over 8 years but realize besides a pair of yoga pants and a skirt, I don't sew for myself. Or my husband for that matter. So I would like to resolve to sew one item a month for myself and blog about it to hold myself accountable and maybe pass on a thing or two. Because I don't know how to sew for bodies with curves.
So I will begin with the caveat that I do not have any pattern altering education and so will be learning the world of pattern alteration as I go from on-line sources and textbooks. Take anything I say with a grain of salt rimmed margarita and If you'd like to come along for the journey, I have included what basic tools I am starting with below.
First, for any other novice to grown up sewing, I feel it's important to note something based on my observations in the sewing groups on Facebook. Do not expect a pattern to fit you right out of the envelope. I see a fair amount of complaints about patterns not fitting right but don't forget designers draft based on a standard  In fact, there is an international standard for body measurements published via ASTM. And standards can't determine if you're long in the torso, short in the leg. Or have a dowager's hump. Or that you sneak ice cream after the kids are in bed and carry all your weight in your ass (like myself). The other observation I see is women thinking they've done something wrong or feel shameful due to sizing issues. For best fit you'll need to make some modification most of the time.
I'm looking into starting a capsule wardrobe and Free Notion is a great resource and has so many awesome blog posts but this is a must read: Know Thyself
"If MOST women fit RTW clothes, I wouldn't see women in public with straps falling off their shoulders, gapping at the neckline or armscye. Women who chose to size their jeans to fit their hips, unable to wear them without a belt to hold them up at their waist – or tugging at them constantly to keep them up.   You wouldn't see so many major retailers relying on the "flexibility" of spandex in wovens and knits to provide the greatest range of fit in their garments. They're designing for "average" and finding materials to fit the masses."
Secondly, know your body type (sort of goes along with Know Thyself). Yeah. I never got the memo. I've never been into fashion so didn't pay attention to these things. But I have finally come to grips that I am a pear (triangle) shape. It wasn't until I started sewing that I even knew that was a thing. And it makes so much sense! That's why I could never wear wrap dresses. Or why skinny jeans actually make my hips look bigger. And why I should probably not wear ankle boots. And why I'm even more committed to sewing for myself. I can fit the clothes to me instead of me to the clothes.
I'm finding I'm really digging the technical aspects of pattern drafting and modification as it parallels my architecture career quite well. It brings me back to simpler times where I stayed up three nights in a row trying to get a project done for design studio in school. But without the dreaded charettes. Before 9PM became my bedtime. But I digress. Here are the tools I'm starting with (from left to right – and these are not affiliate links):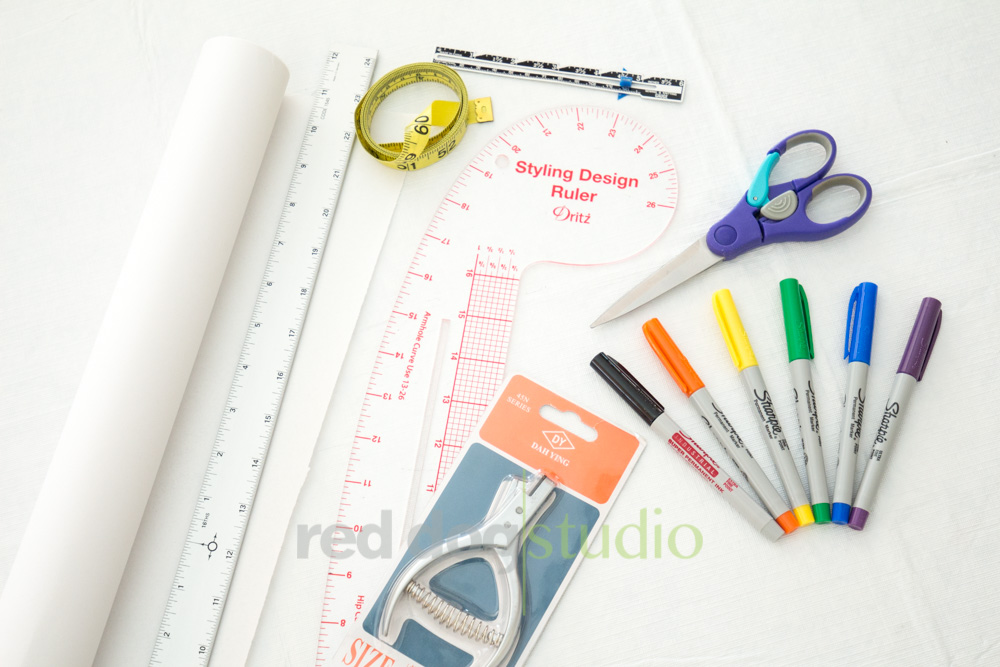 A roll of medical paper. Yes. The same stuff your bare ass sits on while uncomfortably waiting half naked 15 minutes past your appointment time on the doctor's table. It's awesome for reworking patterns since it's see-through like tracing paper. However, it's flimsy so if you have finalized your fit, I would transfer it to something more stable. Something like: butcher's/freezer paper, template plastic, or oak tag board, which is what professional sewing houses use (it's pricey though).
Centering ruler. I don't use it for pattern making but still think it's pretty cool. I use it to center patterns on my fabric if I'm using a panel or want to get the design on the fabric perfectly in the center. My hubs bought me one from the local drafting supply store but there's plenty on Amazon.
Soft tape measure. To move around those womanly curves.
Seam gauge
Dritz Styling Design Ruler. This has a few tools in one and I decided to start cheap and bought this instead of all of the following: hip curve, a set of French curves, straight ruler, graph ruler (super helpful for seam allowances)
Pair of trusty paper cutting scissors…because there is a lot of cutting involved.
Pattern  notcher (sooo sooo handy)
Set of different colored Sharpie markers
Tape and Tape Dispenser
I've already modified my first pattern which I will blog about next as I was asked by Opulent Monsters to sew up some beautiful double brushed poly. Though I admittedly found there wasn't much that needed to be done to alter the pattern but it's a good start. I might as well dip in my toe instead of diving in head first. At least I didn't start with a pair of pants.