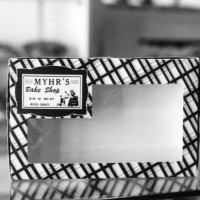 My grandparents both hailed from small town Minnesota. Farmland near Alexandria to be precise. My grandmother, one of many children, made the move to Minneapolis in her late teens and worked as a seamstress. Which was a big move for a young lady at the time. My grandfather, while also from the same area, traveled to the Pacific Northwest and Northern California in his younger days working and training at large hotels as a baker. They both serendipitously traveled back to their hometowns around the same time and the rest, they say, is history.
My grandfather eventually opened his own bakery, Myhr's Bake Shop, in Minneapolis at 50th & Bryant near Lake Harriet. Though my memories of the bakery are few, since I was fairly young when they retired, I distinctly recall frosted cookies depicting Cookie Monster and marveling at the automatic bread slicer.
I cannot tell you how amazing it was growing up with a baking grandfather: chocolate chip cookies, fresh baked bread and dinner rolls, lefse, flat bread, kransekake, lemon bars….you get the idea. I was given his "little black book" of recipes he used at home. Some of them were from magazine clippings or *gasp* from the back of a bag of chocolate chips. But this gem, I use every year as a base for the pumpkin pie recipe that is also in the "little black book" which is always a hit and I always make at least two…for my family of six. Now, there are some strange measurements (who uses 3/8 of a teaspoon of anything?) and I can only assume he might have converted from dry weights to measurements which is something he did for his home recipes.
This recipe can easily be halved.
Walnut Pie Crust
Servings: TWO, 9-inch crusts
Time: Bake 10-12 minutes in a 325° oven
Ingredients:

3/4 cup butter (softened)
1/2 cup packed brown sugar
2-1/8 whole wheat flour
3/4 cup ground walnuts (recipe doesn't call for toasted but I bet that would be good)
3/8 teaspoon salt
3/8 teaspoon baking soda
3/4 teaspoon vanilla
Directions:
Preheat oven to 325°.
Rub all ingredients together until crumbly.
Distribute evenly into two different pie tins (I like to use Pyrex glass pie plates)
Press into pan being sure to rim up sides.
Bake in a preheated oven, about 10-12 minutes, until slightly brown.
Let cool for a little while then fill with your pie filling and bake according to the recipe's direction.