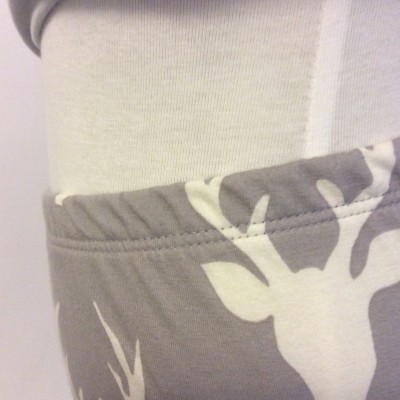 I made this video a year ago and thought it's a bit long and dry so never posted it. But this question keeps coming up in my sewing circles so I have resurrected this video in the hopes it's helpful to those new to coverhem machines or need a little help on visualizing how to attach waistband elastic.
This method is not new but is an alternate method to doing a casing which is a more "traditional" method. For me, this method is slightly quicker, I like the look, and I don't feel as if there's as much bulk making the band more comfortable for the wearer. Not to mention by using a coverhem machine, I can be confident my stitching will have the added stretch and, therefore, durability needed for children's wear.
What if you don't have these newfangled machines? You can still do this method on a regular sewing machine. Where I use the serger, you can use a zig zag stitch. Be sure you align the edge of the elastic right to the raw edge of the waist instead of leaving the 1/8″ I like to do. I only leave the gap so I have a nice trim edge from the serger. Then when you align the waistband on your machine to sew, you'll want to make sure the right-most zig/zag falls right at the edge of the waistband. Then to top stitch, use your twin needle.
A note about the coverhem machine: In the video I am using the Janome 1000CPX and have since upgraded my machine to the Babylock BLCS-2. I may re-do this video so it's not such a yawner using this machine.
If you want to get right to the part where I stitch on the coverhem, fast forward to minute 12:00…that's right. 12:00. I told you I was a bit windy. But I don't like to leave anything out.
Want to be sure you don't miss anymore sewing tutorials? Subscribe via email at the right (don't worry I don't collect the emails for any other purpose). My posts will come directly to your inbox. Or follow me if you are a WordPress member.