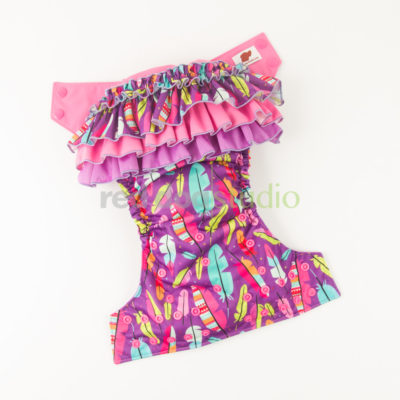 Diaper Sale!
I need to freshen up my PUL prints so I will be offering this stocking at 15% off my regular retail price to clear out my PUL stock and get new prints in.  There are (10) Magnum Opus All-In-One diapers and (1) lonely pocket diaper of my No-Touch design.
The OMMO AIOs will be $26.49 with (1) detachable ruffle AIO available for $32.49. The pocket diaper will be $17.49 with an insert. All diapers have a stay-dry inner.
DETAILS:
WHEN: Thursday, May 11 at 8PM Eastern (which is 5PM Pacific)
WHERE: In my Etsy shop. Please note that items are still available to others until a purchase has been made. Carting the item does not guarantee you will get it.
PRICE: All OMMO AIO are $26.49 except for the ruffle diaper which is $32.49. The No-Touch pocket diaper will be $14.49 without an insert and $17.49 with a fold-over soaker.
New to the Magnum Opus All in One diaper? Here's a quick review which goes over all the reasons why I love this diaper design.
The AIO diaper is a true AIO in the sense that the soaker is permanently attached to the diaper and includes the waterproof layer so no cover is required.  It is constructed so that there are two pocket openings on the inner; one at the rear and one at the front. Attached at each of these openings is one soaker flap, for a total of two. These soaker flaps get tucked into the inner when on the baby and when the diaper is dirty, toss it in the pail; the petals will agitate out in the wash (remove solids first, of course).  These are the key features that make this the perfect AIO:
Easy to keep clean (which I can't do if the soaker is inaccessibly sewn onto the interior layer) – the flaps agitate out in the wash allowing water to flow through the diaper as well as allowing water to get to the soaker petals

Quick to dry (which I can't do if the soaker is inaccessibly sewn onto the interior layer) – since there are two flaps, the number of layers of each can be minimized making it quick to dry and since they agitate out in the wash they are exposed also allowing them to dry quicker.

Easy on. Easy off. Caregivers (not familiar with cloth diapers) rejoice! No unstuffing before throwing into the diaper pail. Which means I don't have to swim through the pail before laundry to unstuff diapers after grandma comes over…and no special instructions required for the nanny or day care

NO EXPOSED FLAPS PEOPLE! There are no flaps for poop to get caught under or to flap aimlessly around when I spray it with the diaper sprayer. Or to get bunched up between legs effectively rendering it useless…