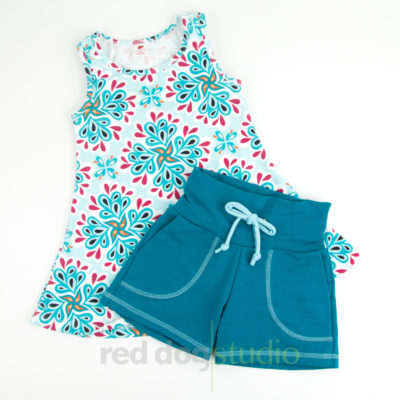 This post may contain affiliate links. By purchasing though these links, I get a very small percentage of the sale which provides support for this home seamstress to continue to bring you reviews and sewn up, modeled views of patterns. I thank you!
It's been quite some time since I've been involved with pattern testing.  I have not had the time! But I felt like getting my sew-jo on and was excited to be a part of New Horizons Design's testing group for their latest pattern.  I have tested for Terra before what feels like eons ago for the monkey bum pants.
New Horizons Designs has a women's version of the Portlander Pants and it was time to take it to "Mommy and Me" level with the release of the Girl's Portlander Pants and…Shorts!  The shorts option is what I tested.  But wait! Get them both as a bundle!!
I can tell you right off the bat what I like about the pattern is that there is a separate cutting line for the shorts. Which seems obvious but what I mean is that it's not just a line at some length down from the crotch along the seam of the pants cut line. There's a separate line that curves down from the crotch and away at the sides creating a really cute flare on the leg.  Pair it with the Girls' Key West Tank (also available for Women) in the swing style, which is what I've done here, and you've got the perfect summer outfit.  Join the New Horizons Designs Facebook group and find out how you can get both the Women's and Girl's version of the Key West tank for free!
Pattern Description
PDF FEATURES –
Layers: Yes
No Trim Pages: Yes
Print Shop Size Offered: Yes
Other Features I like: Company Name, Pattern Name, Pattern Piece, Cut Quantity, Seam Allowance and Hem Allowance are indicated on every pattern piece (as well as Grainline and Stretch) | There are links at the bottom of each page to other parts of the PDF making navigation simple.
This pattern has a knit waistband (no elastic) with optional drawstring detailing.  Along with a pants version and a shorts version, there are optional patch pockets. I threw the whole kitchen sink into my shorts and even did some reverse coverstitch stylings which I feel does a great job of breaking up the solid color and making it more playful.  You need a coverstitch machine to do this but there are faux coverstitch stitches on some regular sewing machines. To make sure my reverse coverstitching lined up with the pocket, I basted the pocket piece on very close to the outer edge then when I flipped the shorts over, I could align the middle needle of the coverstitch machine with the basting stitch. Easy peasy.
Fabric options are listed in the pattern description in the listing but I used a cotton/spandex french terry for this pair. I used a cotton/spandex jersey for my fit muslin and it's also a great choice.  Others used a double brushed poly which gives the pants a wonderful drape, gave the flare to the leg further accentuation, and they just looked so dang comfortable.
Fit
Going by the measurement chart was spot on for my daughter (24″ hip, 22″ waist, 48.5″ tall) and I ended up cutting a 5T width wise and a 7 for the length.  I realized after sewing my final pair I could have gone up to a 6 for width only because the french terry I used is a little on the thick side.  But that's all on me. My fit muslin was perfection.
Sewing it was simple and they really take no time even when including all the options.  The seams are trued nicely so I don't get weird triangle shapes of fabric at the seams and notches for pocket placement were on target as well. Terra considered all feedback from the group and ended up increasing the rise for sizes 4T and under to better accommodate diapers.
I'm glad I jumped on this round of testing as it was a fun experience working with Terra who was always there to quickly answer questions and make any revisions that came up along the way.  You will not be disappointed with this quick sew for a summer staple.
Disclosure of Material Connection: I was chosen as a pattern tester for the Girl's Portlander Shorts and therefore given the pattern only for the purposes of the testing. This blog review was unsolicited and opinions and recommendations are solely my own.